James Jorgensen, OT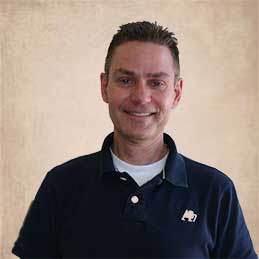 I was born in Richfield, Utah, and I have lived here most of my life.  My father had his own business in the community for 50+ years.  I worked in that business and experienced the reward of making many people's lives better for their families.  I enjoyed making lasting friendships with many people in the community.
I attended Brigham Young University for undergraduate study in exercise physiology.  Having been involved in sports and interested in the human body all my life, I chose to pursue a career in the profession of Occupational Therapy.  I met my wife, Kristi, while attending BYU.  Following graduation from Brigham Young University, Kristi and I moved with our first child to California to study Occupational Therapy at Loma Linda University.  In 1996, after graduation from Loma Linda University, we made our way back to Richfield to rear our family in this great community.  I began work with Bob Jepson and Jeff Thalman in their therapy practice in Richfield and the surrounding communities.  I provide occupational therapy with South Central Therapies, Stonehenge, the local hospital, and home health.
Kristi and I now have 6 wonderful children who are involved in many activities with school, college, friends, church, and at home.   Life is busy and we enjoy interaction we have with members of the community in sports, religion, biking, hiking, running, and other community events.